Swiss Rolling Cake Ultrasonic Cutter
Model

Wanlisp4-300K1450L2000

Dimention

L1.5M * W1.4M

Material

Titanium Alloy

Cutting Width

1.2M

Cutting Speed

60 times/minute

Ratde Voltage

220V

Frequency

50HZ

Power

4000W

Can be controlled by touch screen

Yes

Condition

New

Equipped with material rotating device.

The full set of action is driven by the Servo Motor.
ultrasonic cutter can cut cake swiss roll
good smooth cuttinggood cutting effect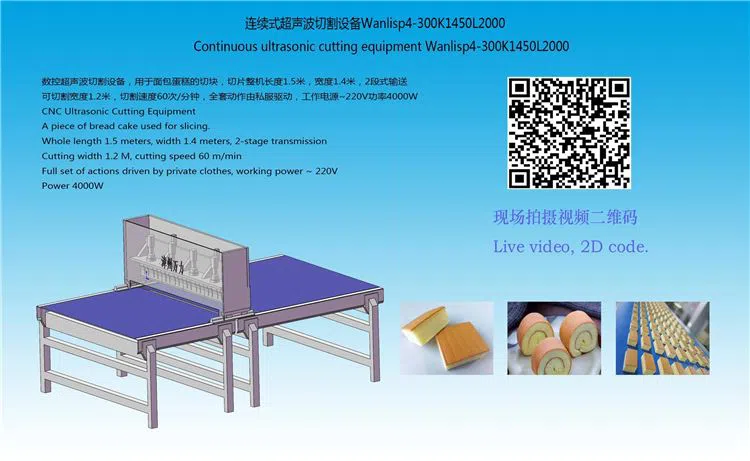 Ultrasonic food cutter equipment can be widely used in bakery products such as sliced cream multi-layer cake, sandwich mousse cake, jujube cake, steamed sandwich cake, Napoleon, Swiss roll, brownie, tiramisu, cheese, ham sandwich sandwich.
Can be divided into various shapes of baked goods and frozen food, such as round, square, fan-shaped, triangular and so on. And can be customized according to customer special needs and existing conditions of the Ultrasonic Cutting Machine, welcome to sample test.
Ultrasonic Components1.Stackable, ultrasonic power supplies and panel mount generator kits2.Rigid mount ultrasonic boosters for improved stack stability3.Wash-down duty, air-cooled converters (stainless steel body also available)4.Food industry approved titanium blade,slitting and knife hornsTypical ultrasonic food cutting components include four major elements: a power supply, a converter, a booster and a cutting horn, as explained below.