Product Description
*Ultrasonic food slicing machine uses high frequency wave vibration to quickly process food, eliminating the traditional cutting blade continuous cleaning caused by downtime.
*Ultrasonic food slicing machine provide a new approach to cutting, slicing, and automatically turning to handle a variety of foods, making the production process, waste minimization and maintenance costs the lowest.
*Ultrasonic food cutting equipment is the use of ultrasonic energy generated 20,000 times per second high-frequency vibration between the blade and food to establish a surface almost no friction, so eliminate sticky knives and squeezing and other issues.
Ultrasonic Toast Cutting Machine
Wanli intelligent standard ultrasonic food cutting machine is a fully automatic high-performance food cutting machine with multiaxis standard control system. The actual food production can fix position and complete all operation automatically according to the need. In this way, it maximize the benefits with the most economical purchase.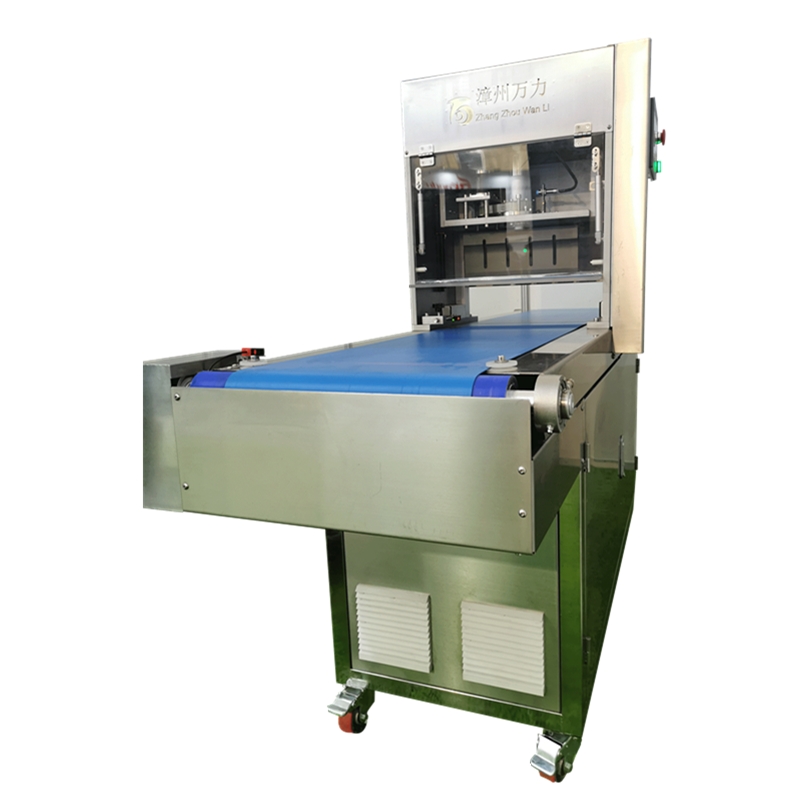 Model

Wanlisp1-250K300L1200

Dimensions

L1200*W300*H1400mm

Weight

Net Wt. 170KGS, Gross Wt.300KGS

Voltage

220V

Rated power

3000W

Frequency

50Hz-60Hz

Ultrasonic Frequency

20000Hz

Cutting speed

60 cuts/minute( adjustable)

Number of blades

1 (optional)

Blade materials

Titanium Alloy

Blade size

300mm/pc (optional)

Cut type

slices

Maximum cutting size

Width 300mm, food cutting height up to 80mm, blade up height:100mm

if food height is more than80mm,need to customize

Material of machine frame

Stainless Steel

Automatic belt convey

Yes

Convey speed

0-3000mm ( adjustable)

Safety protection system

Security door, open safeguard, blade stop cutting.frequency ultrasonic scan and fault indicator lamp

Cutting knife control system

Servo motor
Cutting Schematic Model: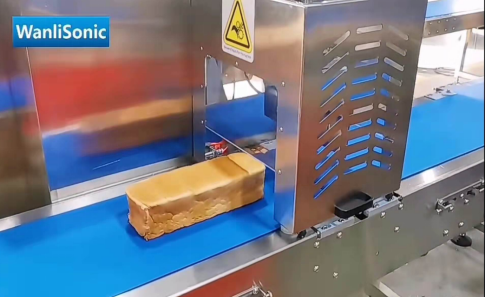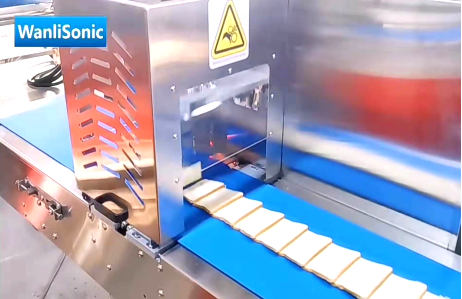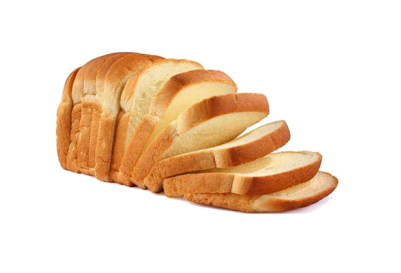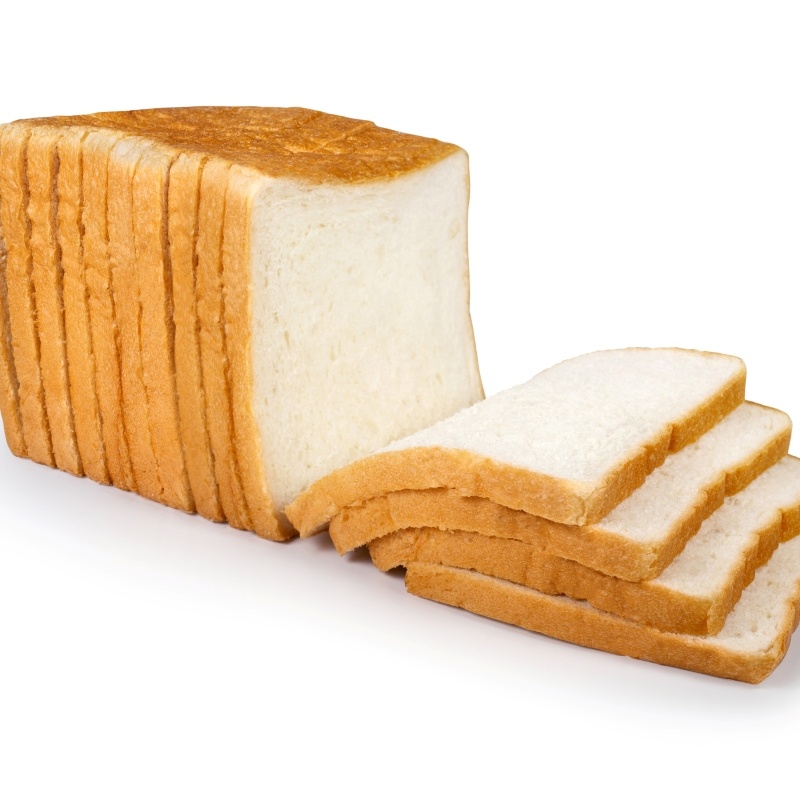 Introduction to Ultrasonic
1. Ultrasonic processing is an efficient way to cut, slice, divert, align or transfer a variety of products.It involves a vibrating blade producing a nearly frictionless surface with the influence of ultrasonic which does not deform products and to which they do not stick. The vibrating frictionless blade cuts or slits products cleanly such as nuts, raisins, dried fruit or chocolate morsels without displacement or plowing.
2.Ultrasonic vibration reduces friction resistance between the blade and mterial, and it makes the blade cut smoothly without deformation.The cutting blade is made of titanium (or the material according to your requirement ). It is completely inert and enduring material.
3.The use of ultrasonic cutting , incision aesthetic integrity, trimming neatly smooth, without Burr, to leave the border areas, not black, not burned, not the hardware products to feel very good shear results
Contrast with Traditional Cutting
Traditional food cutting devices not only tend to damage the appearance of food, but also due to the need to regularly clean the food stick knife, especially in the processing of cream such as the sticky knife materials, its production efficiency is greatly reduced.In food cutting device is introduced in ultrasonic technology not only ensures the food appearance beautiful, meet the aesthetic needs of modern people, more weight is solved in this common problem food is easy to stick the knife, at the same time, the production efficiency is greatly raised the food processing industry, the food processing industry and the wide application of ultrasonic technology has very far-reaching significance.
Ultrasonic food cutters use advanced ultrasonic cutting technology to allow the blade body to generate ultrasonic oscillations when cutting food, cut the food, and there is no food residue on the blade body, and the cut is neat. The equipment is suitable for cutting a variety of foods, especially those with viscosity, such as chocolate, marshmallow, toffee, date cake, etc.
Product introduction
WanliSonic Ultrasonic cutting systems are ideal for cutting rubber, plastic, food (cake, biscuits)and other products.WanliSonic ultrasonic cutting systems can be integrated into automated machinery. Our application and design of the machine can be to meet the cutting requirements of a variety of products.
WANLI Manufature Ultrasonic Layer Cake Cutter Machine Fully programmable, the units can produce portions or slices of any size because the depth, width, and length of the cut can be adjusted. The systems are well suited for portion control or cutting difficult to cut products, including layer cakes, sheet cakes, pies, cream pies, frosted case, Petit Fors, Napoleons, caramel, breakfast bars, brownies, and more.
apply to:Ultrasonic food cutter can effectively reduce food debris when cutting. It is suitable for pastry foods with different thickness and hardness, and is suitable for homes or factories with small production volume.
The characteristics of the ultrasonic cutting machine do not require sharp blades, do not require great pressure, and will not chip or break the cutting material.
Ultrasonic food cutting knives because the cutting knives are doing ultrasonic vibration, the friction resistance is particularly small, and the material being cut is not easy to stick to the blade. This is especially effective for cutting sticky and elastic materials, frozen materials such as cakes, pizza, chocolates, etc., or objects that are inconveniently stressed.
Main Features:
1.Adopt Ultrasonic Knife for Cutting based upon theory of hyper vibration, no crumb, no dripping, the cut is fine and smooth,the cutting edge is accurate, it will not be deformed, and it will not be warped, fluffed, drawn, or wrinkled.
2. High cutting precision and constant rubber compound.
3. Cutting fast, efficient and pollution-free,no oscillation when cutting, quiet and easy to carry.
4.Applicable for cutting of frozen cakes, like heavy cheese, mousse cake and ordinary products, for example: Chiffon cake,Sponge cake and Swiss Roll, also it is applicable for cutting of bread and pizza.
5.Setting for many cutting modes for slice, square and triangle.
6.Easy and convenient operation, saving labor force.
7.Machine could be customized according to the customers' requirement.
Pre-sales:
1.We offer 24 hours online consultation.
2.Give you suitable, reasonable technical advise .
3.We will tast our machine before the delivery.
After sales:
1.One year machine warranty.
2.24 hours on line service.
3.Professional engineering team guides installation and operation.
contact us:
E-MAIL: jornasuhong@wanlisonic.com
TEL/WHATSAPP/WECHAT:008613400979434