The ultrasonic cake cutting equipment in the video was customized by us strictly according to the customer's requirements. Usually customers will propose the cutting effect they want, and our engineers will design the program according to the customer's requirements, only until the customer is satisfied. After the machine is finished making, we will test the machine and give feedback to the customer. Customers can put forward their views on the machine, and we will also modify the machine according to what the customers said, until the customers are satisfied. We will arrange the shipment.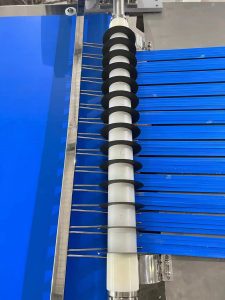 The first half of this equipment uses a hob to cut the cake, followed by a segmented conveyor belt to distance the cake. An ultrasonic knife is used to cut the cake crosswise. Before the cross cut we also added a flap to hold the cake in place before cutting, and we were able to see in the video that the cut was very good.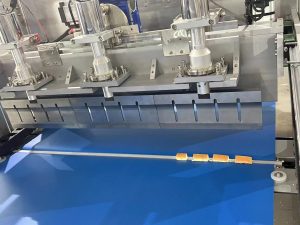 The back part of the equipment we do according to the customer's request, in order to connect the packaging part for the transportation of the cake.
Our customers are very satisfied with our equipment.We Wanli are in good position not only to supply you high quality equipment , but also the excellent after sales service. Well-trained engineers will offer you any technical support.
Jorna Su Hong(Senior Customer Consultant)
(Excellent Quality, Excellent Price & Excellent Service)
Tel: 86-13400979434
We Chat/Whats App: 008613400979434