Wanlisonic-160K
It use 4-axis servo driver system, can be applied to steel slat type of cake production line, with the advantage of high output, continuous cutting, convenient operation, automatic tracking, low failure rate, and highly automated, which make it can achieves 180 cuts/minute, besides of frequency ultrasonic scan and fault indicator lamp, this type has flip detection to avoid accidents.The device has slice mode for sandwich and other foods need one diagonal cutting mode. Working speed and angle parameters are adjustable. For the triangle shape of the sandwiches cutting.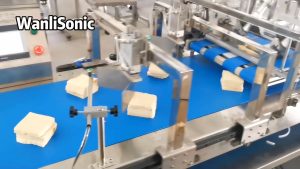 The cut product is put into the ultrasonic cutting machine, the equipment will be based on the pre-input parameters of the cut product positioning, slitting, automatically complete the operation, cutting high precision, slice shape can be controlled without human intervention, thus improving work efficiency. Compared with ordinary cutting machines, it can reduce a large amount of food edge waste, improve production efficiency, and greatly enhance the aesthetics of the sandwich cutting surface, which is a powerful promoter of brand competition in the new era.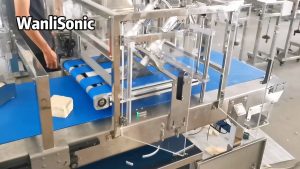 Advantages
Handle sticky sandwiches such as cream jam without sticking to the knife, the cutting surface is smooth and beautiful. Fully automatic product positioning, high cutting precision and controlled slice thickness. Controllable speed for high efficiency cutting according to demand. Fully automatic operation, no need for human intervention, improving work efficiency.
Jorna Su Hong(Senior Customer Consultant)
(Excellent Quality, Excellent Price & Excellent Service)
Tel: 86-13400979434
We Chat/Whats App: 008613400979434