Products Introduction
Industrial Ultrasonic Toast Slicer Increase throughput and produce consistment Slice THICKNESS and cook of your bread and snacks. Whether you need a multi-purpose, modular slicer or are looking for a high-speed industrial slicer that can produce sixty of slices per minute, Wanli has you covered.
high speed ultrasonic bakery toast bread cutting machine
This precision bakery machine is equipped with an ultrasonic system with high-quality titanium blades that is specially developed by WANLI to accomplish the best cutting results.Beautifully shaped products, less cutting waste, safe cleaning and more profit. Our automatic ultrasonic bread slicers bulk slice and shingle, and we're especially known for automatic slice and apply of product onto conveyors, toasting oven belts, and drying screens, eliminating product handling, improving cook, and increasing throughput.
Standard Parameter
Model
Wanlisp4-300K1450L2000
Dimensions
L2000*W900*H1400mm
Weight
Net Wt. 210KGS, Gross Wt.310KGS
Voltage
220V
Rated power
5000W
Frequency
50Hz-60Hz

Ultrasonic Frequency

20000Hz

Amplitude

20%-40%

Cutting speed
60 cuts/minute( adjustable)
Number of blades
2 (optional)
Blade materials
Titanium Alloy
Blade size
300mm/pc (optional)
Cut type
slices
Maximum cutting size
Width900mm, food cutting height up to 80mm, blade up height:100mm

if food height is more than80mm,need to customize

Material of machine frame
Stainless Steel
Automatic belt convey
Yes
Convey speed
0-3000mm
Safety protection system
Security door, frequency ultrasonic scan and fault indicator lamp
Control System
Four-axis Control System
Cutting knife control system
Servo motor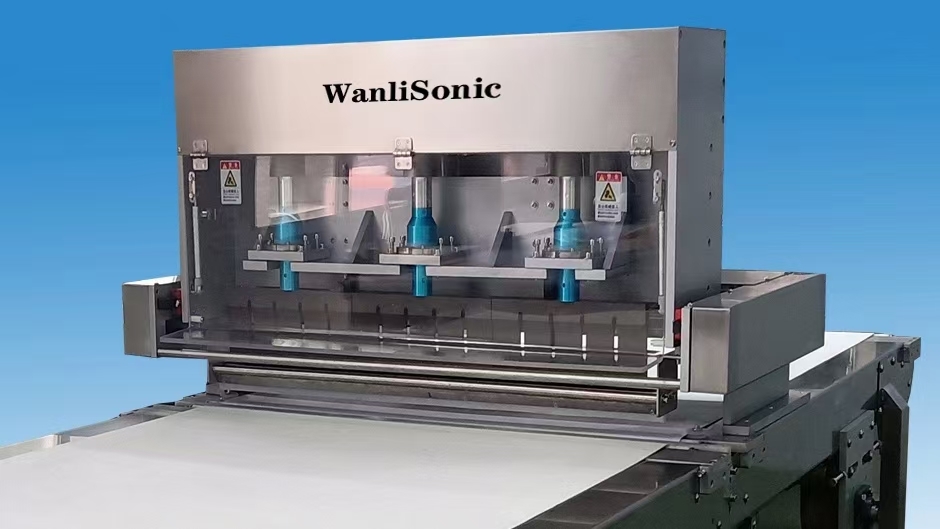 · HIGH SPEED CUTTING
· STAINLESS STEEL FRAME
· TITANIUM ALLOY ULTRASONIC KNIFE
· SECURITY DOOR
· ONLINE MAINTENANCE SUPPORT
Food slice mode
Applied to variety of food:
Toast/Bread
Cheese/Butter
Candy/Nougat
Cookies etc.
Advantages
1.Customized solutions based on your specific processing needs.
2.Sanitary designs for quick and thorough wash-downs.
3.Easy-to-use controls and operator interfaces.
4.Perfect and clean cutting surface, will not damage the delicate appearance of food.
5.The slitting process is fully automatic. It can be directly connected to the packaging machine to realize fully automatic mechanical operations.
About Our Machine
The basic structure of the ultrasonic cutting board cutter is similar to that of the ultrasonic cutter cutter, except that the ultrasonic output portion is not a cutter but a standard ultrasonic flat mold. Here, the mold is equivalent to a cutting board. However, this is a cutting board that is used for ultrasonic vibration. The cutting knife can still be used in the traditional shape, but the sharpness of the cutting edge is reduced, and the life of the cutting knife is greatly extended.
Our ultrasonic food slicing machines are designed to improve production and consistency, increase yield, reduce waste and achieve higher ROI. We can custom fit our slicers for each of our customers' unique processing needs.
We offer a complete line of versatile slicers from multi-purpose, modular slicers with quick changeovers, to high speed commercial slice and apply across several lanes. Our patented band blade system ensures a consistent, accurate slice. All machines feature sanitary design, for quick and thorough washdowns.
-Imported titanium alloy cutter, through the principle of ultrasonic high-frequency vibration cutting, the section is exquisite,non-stick knife.
-Equipped with Taiwan Weinview LCD touch screen and MITSUBISHI PLC controller, with 40 sets of memory modes that can be set freely, simple operation.
-This ultrasonic cake cutter machine can be configured to the production line based on customer's needs, to realize massive production.
Reason for Choose Us
1.Cutting with ultrasonic energy reduces friction.
2.Non-stick knife, the cut is smooth and tidy.
3.The cutting objects are wide, and frozen products and creamy products can be adapted.
4.Cutting constant temperature, high temperature and low temperature can be cut.
5.Industry-pioneering systems that deliver years of produciton efficiency reliability and quality.
Usage
INDUSTRIAL SLICERS FOR A RANGE OF BAKED BREAD CRISPS & COOKIES
Bagel Chips
Baguette Chips
Biscotti
Bread Crisps
Melba Toast
Twice-Baked Cookies