Large column Pakistan ultrasonic cutting machine
We are a highly professional and experienced manufacturer of ultrasonic machine equipment in China. We manufacture and supply a wide range ultrasonic equipment to customers across the world. We develop a full line of cutting system components, kits and cutting horns, offering superior performance in terms of speed, safety, sanitation, reliability, and cost-effectiveness. When used for guillotine cutting or continuous slitting, our high frequency vibrating horns cut faster and cleaner than conventional motionless cutters.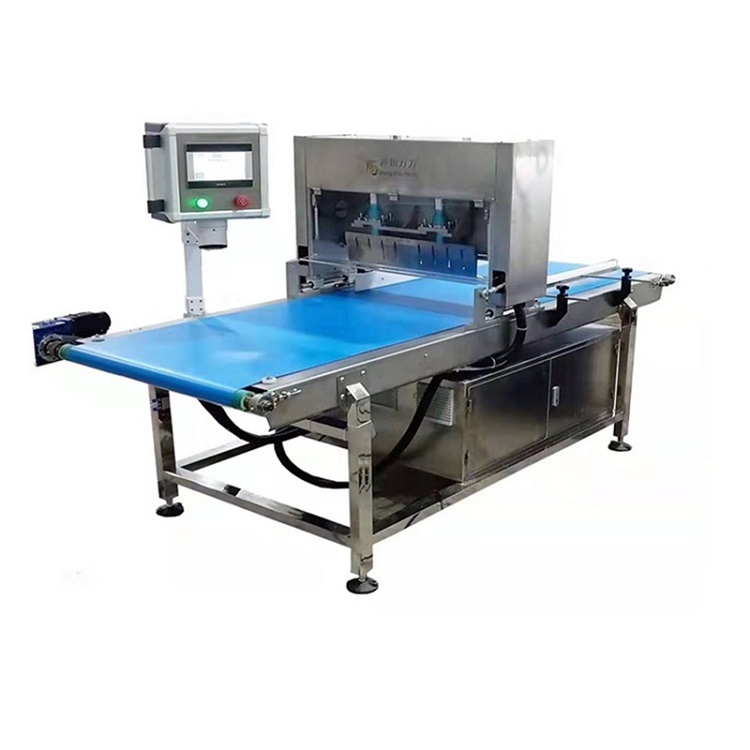 Standard Parameter
| | |
| --- | --- |
| Model | Wanlisp4-300K1450L2000 |
| Dimensions | L2000*W900*H1400mm |
| Weight | Net Wt. 210KGS, Gross Wt.310KGS |
| Voltage | 220V |
| Rated power | 5000W |
| Frequency | 50Hz-60Hz |
| Ultrasonic Frequency | 20000Hz |
| Amplitude | 20%-40% |
| Cutting speed | 60 cuts/minute( adjustable) |
| Number of blades | 2 (optional) |
| Blade materials | Titanium Alloy |
| Blade size | 300mm/pc (optional) |
| Cut type | slices |
| Maximum cutting size | Width900mm, food cutting height up to 80mm, blade up height:100mm, if food height is more than80mm,need to customize |
| Material of machine frame | Stainless Steel |
| Automatic belt convey | Yes |
| Convey speed | 0-3000mm |
| Safety protection system | Security door, frequency ultrasonic scan and fault indicator lamp |
| Control System | Four-axis Control System |
| Cutting knife control system | Servo motor |
Principles   
Different from traditional cutting knife, Ultrasonic PVC Cutting Knife cuts the rubber material better and easily. 50/60Hz electricity will be turned into 20, 30 or 40Hz energy, and then the energy will be turned into vibration. Ultrasonic PVC Cutting Knife breaks the molecular chain and then cuts the material.
Better effects on elastic material, frozen material, food, rubber, etc. Most significant advantage of ultrasonic PVC cutting knife is fusion effect on cutting field. It prevents things from loose. Ultrasonic PVC Cutting Knife is widely used in digging, scraping, sculpturing and so on.
Ultrasonic cutter cutting equipment features
1. Use high-power ultrasonic transducer as the vibration element to ensure stable operation for a long time.
2. The cutting speed is greatly improved, and the efficiency of the traditional cutting knife is increased by more than 10 times.
3. It can cut all kinds of products that are difficult to be cut by ordinary knives to solve the production and processing problems.
4. High hardness blade can be installed, and the cutting blade can be replaced, which greatly reduces the cost of use.
5. The variety of cutting knives is complete, and the cutting knives of related shapes can also be customized according to the customer process.
6. Easy to install and use, hardly changing the original cutting process.
7. Disc-shaped ultrasonic cutter cutting equipment can be produced to realize rolling cutting, which is suitable for special cutting applications.
8. Air-cooled and water-cooled design can be adopted, suitable for various working conditions and environments.
Our Advantages:
1. Over 10 years experiences in Food Processing Machines
2. OEM Manufacturing welcome
3. We will reply you for your inquiry in 24 hours
4. Prompt after-sales service and 1-year, unlimited-mileage warranty
5. Adequate stock, goods can be sent at once
6.100% one by one test before sending
7. After sending, we will track the products for you once every two days, until you get the products. When you got the goods, test them, and give me a feedback.If you have any questions about the problem, contact with us, we will offer the solve way for you
8. Trail order is accepted
contact us:
E-MAIL: jornasuhong@wanlisonic.com
TEL/WHATSAPP/WECHAT:008613400979434