Happy Dragon Boat Festival from Wanli to all new and old customers
What is an Ultrasonic Cutting Machine?
An Ultrasonic Cutting Machine is a device that uses high-frequency vibrations to cut through materials. It is commonly used in industries such as textiles, plastics, and food processing. The vibrations create a clean, precise cut without the need for excessive pressure or heat. This makes it an ideal tool for cutting delicate materials or materials that are difficult to cut with traditional methods.
Why Choose WANLI GROUP Ultrasonic Cutting Machine?
At WANLI GROUP, we are committed to providing our customers with the highest quality products and services. Our Ultrasonic Cutting Machine is no exception. Here are some reasons why you should choose our machine:
1. High Precision Cutting
Our Ultrasonic Cutting Machine uses advanced technology to ensure that every cut is precise and clean.
2. Efficiency
Our machine is designed to be efficient and easy to use. It can cut through materials quickly and accurately, which can save time and reduce waste.
3. Durability
Our Ultrasonic Cutting Machine is built to last. It is made from high-quality materials and is designed to withstand heavy use in industrial settings.
4. Customer Support
At WANLI GROUP, we pride ourselves on providing excellent customer support. We are always available to answer questions and provide assistance to our customers.
Conclusion
The Dragon Boat Festival is a traditional Chinese holiday that is celebrated on the fifth day of the fifth lunar month. It is a time for people to pay tribute to the ancient poet Qu Yuan and to enjoy the exciting dragon boat races. As a leading manufacturer of ultrasonic cutting machines, WANLI GROUP is proud to celebrate this important holiday with our customers.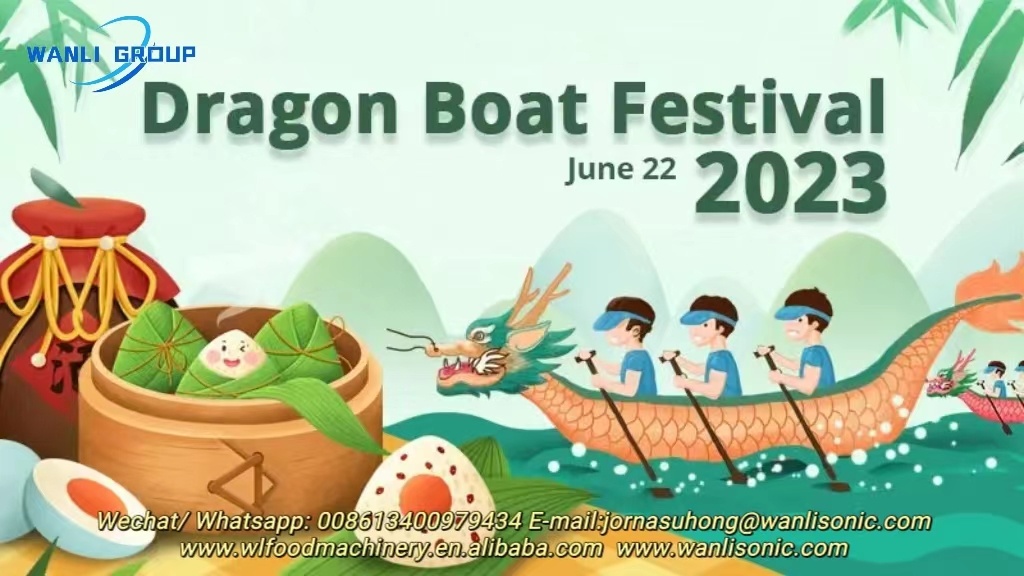 Jorna Su Hong(Senior Customer Consultant)
Tel/We Chat/Whats app: 008613400979434
E-mail:jornasuhong@wanlisonic.com
Website:www.wlfoodmachinery.en.alibaba.com
www.wlbakerymachinery.en.alibaba.com
Related Products