Wanlisp4-300K1450L2000
It uses 4-axis servo driver system, can be applied to steel slat type of cake production line, with the advantage of high output, continuous cutting, convenient operation, automatic tracking, low failure rate, and highly automated, which make it can achieves 110 cuts/minute, besides of frequency ultrasonic scan and fault indicator lamp, this type has flip detection to avoid accidents.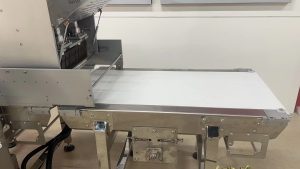 The ultrasonic cutting machine in the video uses a food grade PE conveyor belt.PE conveyor belt is characterized by high tensile strength, good curvature, light weight, oil resistance, non-toxic hygiene, easy to clean and so on. PE conveyor belt meets the U.S. FDA food hygiene standards, conveyor belt with good abrasion resistance and resistance to physical aging, is a durable conveyor belt products.
This is a high speed ultrasonic cutting machine which can reach 110 cuts/per minute. It has high working efficiency, which can increase the output and reduce the labor cost.
Jorna Su Hong(Senior Customer Consultant)
(Excellent Quality, Excellent Price & Excellent Service)
Tel: 86-13400979434
We Chat/Whats App: 008613400979434