Ultrasonic Layer Cake Cutting Machine
After years of development, ultrasonic food cutting machines are currently widely used in various food industries and have achieved good results.
The food that can be cut by the ultrasonic food cutting machine mainly includes: sandwich cake, layer cake, bread, Swiss roll, date cake, cream cake, mousse cake, pizza, Shaqima, chocolate, cookies, cheese, various candies, etc.
Ultrasonic food cutters use the vibration of high-frequency waves to process food quickly, eliminating the downtime caused by continuous cleaning of traditional cutting blades.
The ultrasonic food cutting machine provides a new way to cut, slice, and automatically turn to process a variety of different foods, making the production process streamlined, with less waste and low maintenance costs.
Product Name

ultrasonic cheesecake slicer machine layer cake cutter machine

Model

Wanlisp4-300K900L3500

Material

Titanium Alloy

Ratde Voltage

220V

Frequency

50HZ

Power

5000W

Can be controlled by touch screen

Yes

Condition

New

For dicing or slicing bread and cakes.The length of the whole machine is 3.5M(divided into 2 sections). Width is 0.9M.Equipped with material rotating device.Can cut size:600mm*600mmCutting speed 60 times/minuteThe full set of action is driven by the Servo Motor.
Common problems and solutions in ultrasonic system:
1. Large current, large amplitude and screaming phenomenon are found in the blank cutting.Solutions:1. Adjust the frequency modulation coil until the current and amplitude are adjusted to the lowest point at the same time, and then adjust the amplitude to 1% higher than the original amplitude;2. If the adjustment cannot solve the problem, judge that the vibration group and HORN are damaged.The current of the generator box exceeds the above table.Solution: check whether there are cracks in HORN, lug and transducer. If there are cracks, this set of vibrators is broken. If no crack is found, remove the HORN and adjust it to resonance. Such working condition is normal, indicating that the HORN is bad.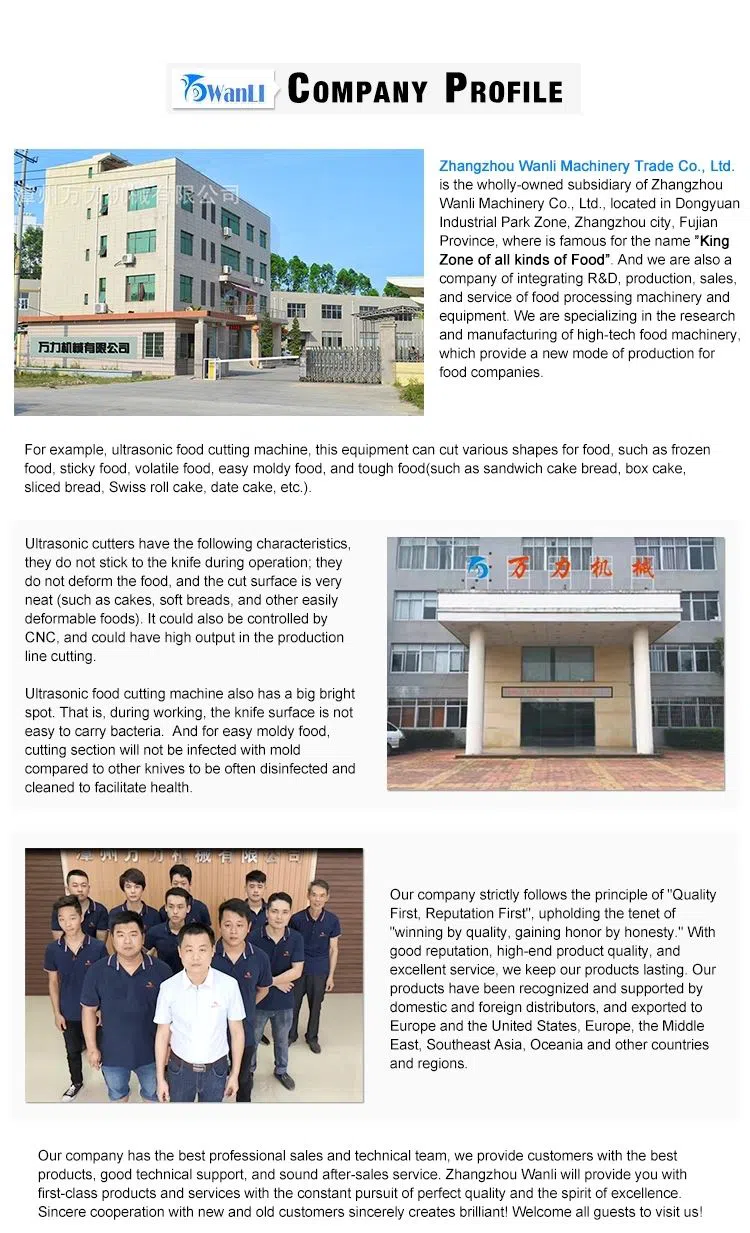 Q:What is your minimum order quantity, can you send me samples?
A:Our minimum quantity is 1 set, as our product is machinery equipment, it's difficult to send you samples, however,we can send you catalog, warmly welcome you to come visit our company.
Q:Is your price competitive?
A: Only good quality machine we supply. Surely we will give you best factory price based on
superior product and service.
Q: How long is the production lead time?
A: It costs 15 to 30 days for different models of the machine you chose. If your orders are urgent, we will make it faster as your need.
Q: What's the warranty of your products?
A: We supply good quality products, all the products is under strictly quality inspection. Provide Free Maintenance Within One Year. Damage Caused by Human Factors such as due to the Buyer Shall be Borne by the Buyer all Repair Costs; After the Warranty Period, The Seller provides Paid Maintenance Services for Life.
Q: May i know which payment will be accepted by your company?
A: Our normal payment term is TT 30% deposit after contract signed and 70% before delivery. We also accept LC at sight.
Q:After we placing an order, will you arrange the installation of the machine at present?
A:All the machines will be tested well before delivered, so almost of them can be used directly, also our machine are easy to be installed, if you customer needs our assistance, we will be pleased to arrange the installation, but all the cost will be be charged by you.