Ultrasonic Introduction:
Ultrasonic wave is a kind of high frequency sound wave, its direction is good, penetration ability is strong, can be used for cutting, polishing, can also be used for cleaning, grinding, sterilization, accelerate dispersion, homogenization, emulsification and other processes.At present, ultrasonic technology has been widely used in the food equipment machinery manufacturing and food processing industry, which not only optimizes the conventional food equipment, so that the equipment can better meet the demand of high-quality production, but also drives the development of the industry and draws a new blueprint for the development of the food industry.
For the ultrasonic slicing machine, as with the ultrasonic cleaning machine, using ultrasonic technology.The difference is that the machine is equipped with a multi-axis standard control system, which can be used to slice food and divide it into circular parts.Because the direction of ultrasonic wave is good, the accuracy of slice is high.As long as the ultrasonic parameters and other working speed and Angle parameters are set, the size standard of food segmentation can be ensured to be unified, the appearance is beautiful, and the segmentation efficiency can be improved, the edge and corner waste can be reduced, and the raw materials can be saved.

Product Name

Industrial food ultrasonic cutting machine for food ultrasonic food cutter

Model

Wanlisp4-300K900L3500

Material

Titanium Alloy

Machine Size

L3.5M*W0.9M(divided into 2 sections)

Ratde Voltage

220V

Frequency

50HZ

Power

5000W

Can Cut Size

600mm*600mm

Cutting Speed

60 times/minute

Can be controlled by touch screen

Yes

Condition

New

For dicing or slicing bread and cakes.Equipped with material rotating device.

The full set of action is driven by the Servo Motor.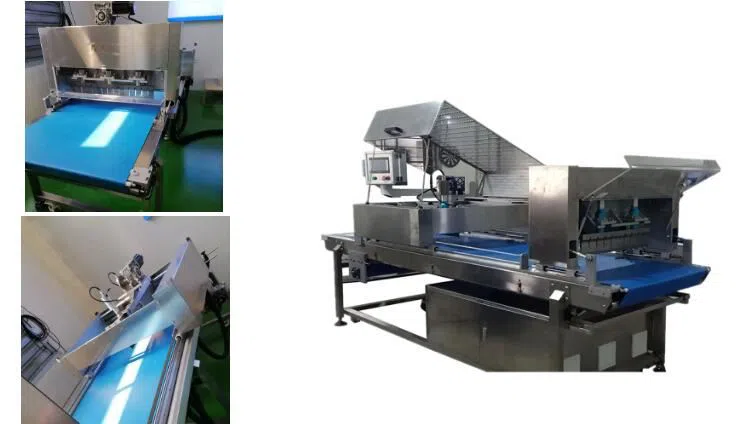 Q: What is your MOQ ?
A: 1SET.
Q: What should I do before ordering?
A: Before ordering, we need confirm the drawings and price, and confirm the material you chose, then you can start to order. If you need our designer to check the site, we can discuss too.
Q: How long is the production time?
A: It costs 15 to 30 days for different models of the machine you chose. If your orders are urgent, we will make it faster as your need.
Q: What's the warranty?
A: We supply good quality products, all the products is under strictly quality inspection. Provide Free Maintenance Within One Year. Damage Caused by Human Factors such as due to the Buyer Shall be Borne by the Buyer all Repair Costs; After the Warranty Period, The Seller provides Paid Maintenance Services for Life.
Q: What is the payment term?
A: TT 30% deposit after contract signed and 70% before delivery. We also accept LC at sight.
Q: Do you have the installation service?
A: If needed, We will send our engineer to install the machine for the first-time freely, but customers have to bear hotels and accommodation. For the next time maintain the machine, customers have to bear the air ticket also.