The 8th China International Bakery Autumn Exhibition 2023 is held in Shanghai National Convention and Exhibition Center, Zhangzhou Wanli Machinery sincerely invites you to visit!
Booth No.: Hall 6.2, 62C21
Exhibition time: October 12, 2023 - October 14th;
Exhibition Address: Shanghai, China;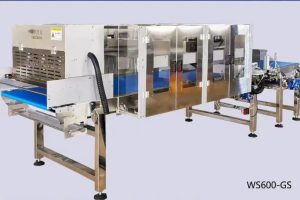 We will exhibit ultrasonic cutting machines at this exhibition.This is an ultrasonic cutting machine for food controlled by 5-axis servo motor system, can be linked to chain slat type tunnel oven, automatic belt convey and cutting products of 600x600mm, and it equipped with automatic paper removal function(optional), and security system of security door, frequency ultrasonic scan and fault indicator lamp.
Advantages
1. Ultrasonic cutting reduces friction, fine incision, no chip, no deformation, smooth and beautiful section.
2. Dimensional accuracy: plus or minus 1mm.
3. Can be used as a stand-alone machine or embedded solution.
4. Fast and precise because of unique servo technology.
5. Advanced software to set product parameters using icons on the touch screen.
6. A high quality safety system prevents access of the cutting area during operation.
7. After the setting is completed, a key start, automatic cutting.
8. Automatically chase ultrasonic drive power, real-time tracking of ultrasonic cutting knife frequency, to ensure that the
ultrasonic cutter work in a stable state, suitable for long hours of continuous work.